This is a recipe we tried over the weekend. It was really flavorful and easy to make. I came across this in our local paper but of course had to change things up to fit my family's liking.
What you need:
2 tbsp Olive Oil
3lbs pork tenderloin
1/2 cup teriyaki sauce (check labels
1 cup chicken broth (check labels)
1 10oz jar Smucker's sweet orange marmalade
2 tsp fresh ginger, grated
1/2 cup brown sugar
3 cloves garlic
1/4 tsp black pepper
1/2 tsp salt
1/2 tsp red pepper flakes
Slice up the pork into bite size pieces. Heat Olive oil in skillet over medium heat and brown tenderloin (do not cook through).
In a blender, mix teriyaki sauce, chicken broth, orange marmalade, fresh ginger, brown sugar, and garlic. Blend until smooth.
In a crock pot mix browned tenderloin with the sauce. cook on high for about 4 hours.
Serve with Rice!
~Enjoy!~
This recipe was shared on Allergy Free Wednesdays! Stop by and check out the other great recipes!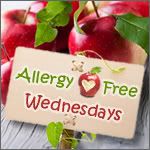 (Visited 238 times, 1 visits today)