Welcome to our new Linky Party! Come and peak inside the minds of other bloggers. See what posts have them talking and share your favorite post for the week! This week I would like to feature some of the cute DIY posts that I found cute!
Kid Pep makes some really cute and simple flip flops!
In The Playroom shows us one of the many uses for paper plates!
Free Style Creating by Villy  makes are really cute handbag as a DIY Mother's Day gift! She even gives step by step photos!
While it is not required it would be great if you visited the other great hosts:
I hope you join in this week! I can not wait to see what you all have going on!
Here is how to join:
1) Leave us a link below!
2) Grab the button code or link back in some way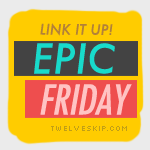 3) Share the love! Share this link up with your friends and comment on at least 2 other posts on the list!
Have fun and enjoy!
(Visited 130 times, 1 visits today)