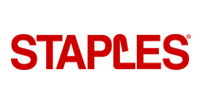 Each year teacher's spend about $400 of their own money on school supplies that will help give our kids the best education they can get. This year, Staples is helping teachers by giving them 25% off purchases of $10 or more.
Staples has a Teacher Rewards program that offers deals and savings through out the year for teachers. When you sign up for their program as a teacher you will receive 5% back in rewards on your purchases. Not to mention free shipping on orders placed through Staples.com and bonus events that will save you even more like this Teacher Appreciation weekend.
The event will run from Aug 1st- Aug 3rd and you can sign up for the rewards program and receive your coupon at any Staples location. You will also receive a "Calendar of Savings" that will hold specific offers each month.
They also have partnered up with Katy Perry to "Make Roar Happen" to support teachers during the back to school season. Staples has been working for a long time with DonorsChoose.org, a charity that has helped raise money for more then 450,000 classroom projects for teachers and helped more then 11 million students.
The "Make it Roar" campaign will allow people to donate $1 to DonorsChoose.org at their local Staples Store or Online at  www.staples.com/makeroarhappen, The best part- Your specific donation will go towards a project in YOUR community.
There are some great things happening at Staples so be sure to head over there and check them out!
(Visited 43 times, 1 visits today)