One of the important things to our family is living a natural and healthy style. I have slowly started getting into using essential oils and am still learning of all the wonderful benefits. One thing I use all the time is Lavender Oil. This is really a great multi use oil. It helps with hypertension,  headaches, it calms my son when he is having anxiety issues. But it can also help with this like burns, instect bites and more.
I am starting to learn about other oils though. Like Past Tense from DoTerra. It comes in an easy to apply roller to help with Tension Headaches. This may be what I need this holiday season. Being an LEOW the holidays are always stressful trying to figure out when to see family and arranging things like that.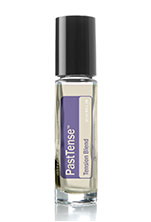 This I can not wait to try. It has a mixture of wintergreen, lavender, peppermint, frankincense, cilantro, basil, and other items! Those are all smells that I love and can not wait to try it. With my hypertension and honestly sometimes the work that I do, headaches are a given it. So I can not wait to give this a try!
DoTerra does have a wind range of Oils ranging from your basic straight oils to your mixed oils like Past Tense or one for sleep, calming and anxiety. But one thing I love most about oils is the many ways you can use them! So this Holiday I want to give you guys the gift of health! I am serious guys, oils are my new friend! I had a friend loan me some while we were all fighting bronchitis and the difference it made. You can diffuse it with one of DoTerra's diffusers, or apply it directly to your skin. My favorite way of using it is mixing it with coconut oil (natural skin healer and other benefits of coconut oil) and sugar for a natural sugar scrub. You can find how to make your own sugar scrub by visiting my DIY Sugar Scrub Post.
So when you are doing your Holiday Shopping be sure to check out DoTerra! To get you started. Tiffany is being kind and giving my readers a chance to win a Past Tense roller of their own! The giveaway will end on December 4th! This is open to US Residents only and you can enter by using the form below!
~I am receiving some oils to try and do a review on. No additional compensation is being exchanged for this extra post. No purchase necessary to enter the giveaway. Giveaway is open to US residents only and will end at 11:59PM CST on December 4th, 2015. Winner will be notified via email and given 48 hours to reply. If no response is received then a new winner will be selected. ~
(Visited 317 times, 1 visits today)